Welcome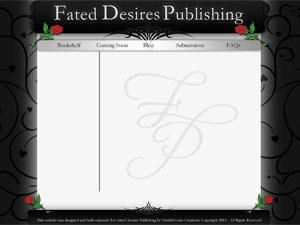 Introducing our latest project for Fated Desires Publishing. Stacy designed and coded this Wordpress site, completing her largest, most involved website to date. It includes custom-styled sliders and an ultra-simple navigation system that insures that visitors will only need a click or two to see what they came to see. There's a section for readers to find books by their favorite authors, and another section for romance writers interested in getting published. Stop by and check it out!
We're happy that you stopped by to visit NimbleForce Creations. If you want a website that reflects You and your personality, you've landed in the perfect place. NimbleForce Creations specializes in custom design and code, and customer satisfaction is our first priority. Nothing pleases us more than a happy client. So, we go to great lengths at each step of a build to make sure our work is in line with our client's desires. We also offer webmastering services to keep your new site updated and in tip-top condition year-round.
NFC has also expanded! We now offer full copy-editing services at an extremely competitive price. Stacy has over fifteen years experience with editing, and is currently accepting manuscripts of any length. Check out our great prices and ask about our special price for first-time customers.
Take a look around and see what you think. We're easy to contact, and we'll get back to you right away with answers to your questions.
We hope you'll choose NimbleForce Creations for your next project. Until then, have a fantastic day!